Big 4 Australian Banks
When talking about home loans, how big are the big 4 banks?
Based on April 2017 data from APRA the Australian home loan market is valued at around $1.55 trillion dollars. This includes both Owner Occupied home loans and investment loans.
Of this total value, the top four Australian Banks, being Commonwealth Bank (`CBA`), Westpac, National Australia Bank (`NAB`) and the Australian and New Zealand Banking Group (`ANZ`). Have a combined home loan portfolio of $1.28 trillion dollars or 83% of the total market.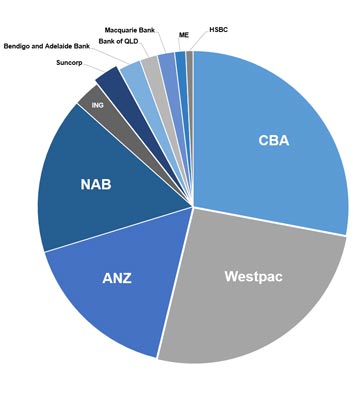 This doesn`t leave a lot of room for anyone else.
The next seven biggest lenders in Australian combined only account of 13% of the market, the largest of them being ING with a portfolio of $41 billion dollars or 2.7% of the market.
It is no wonder the most competitively priced home loans are offered from these middle tier lenders.
Whether you already have a home loan or are looking to take one out, it is important to compare the market and not just go to your `bank`. At Get a Better Rate we have access to over 40 different lenders and thousands of loan products, why not speak with one of our home loan experts today?